Free Weekends scrapped in New Municipal Waste program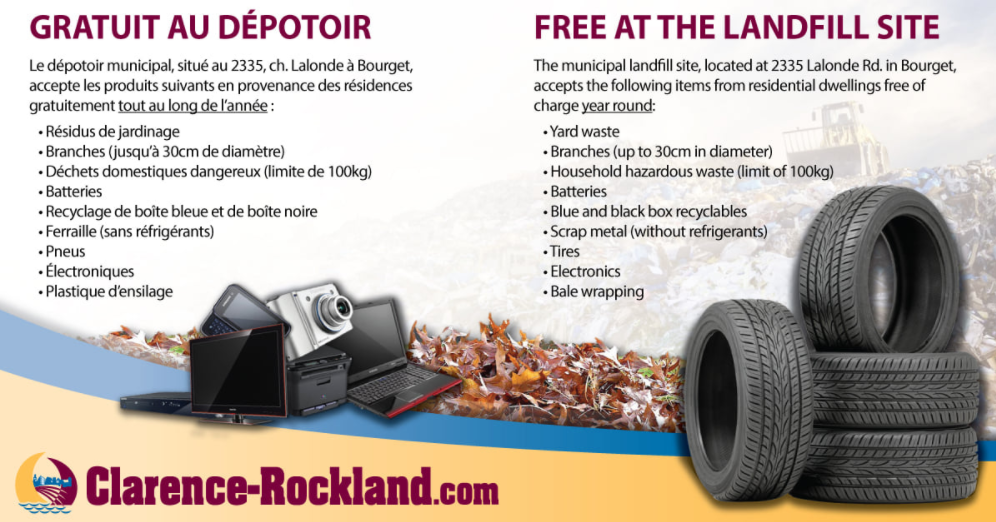 The City of Clarence-Rockland unveiled its new Municipal Waste program, replacing the "free dumping weekends" at the landfill in Bourget, with an annual program, starting June 1, 2021.
Local councillors approved the change to the municipal waste program in April 2021, after the City's administration brought forward a report showing that the "free weekends" were creating a loss of revenue as well as causing safety concerns. 
The two major items are the retaining of the residential fall clean up, and that each Clarence-Rockland citizen that lives in a residential address will be allowed to throw out an cumulative weight of 140 kg (~308lbs) at no cost per year (from June to May).
To qualify for the program, residents must show a photo ID containing their address as well as being present at the time of dumping, meaning no-one can use the program for them. 
Residents will be allowed to dump their waste multiple times until they reach the weight limit. Once the limit has been reached, residents can continue to use the landfill but will be charged (for details head to the Clarence-Rockland website).
These changes will replace the bi-annual free weekend program that had served the city for the past several years. 
"I think this is worth trying, because the old one didn't work," said Mario Zanth, Councillor for Ward 2. 
Councilor Zanth went on to explain that the city had to find a safer way for citizens to dump their garbage. 
"[During the free weekends], over 1000 vehicles enter the dump which is not meant to operate with that much volume.
"We had people lined up all the way to the main street, it caused traffic headaches, and a lot of frustration." 
In addition to safety problems, the free weekends resulted in an estimated $40,000-$100,000 in lost revenue every year.